The GumDippers…our 40th year…we have big plans!

Normally our annual dues are $20 (including spouse)

The GumDippers was originally established in 1980 by a group of retired Firestone employees in the old Jacksonville, FL District.  As District boundaries expanded and changed the group grew to include retired employees from the Jacksonville, Tampa and Miami Districts. 

Over the years we have become a national organization.  BFS employees, both currently working and retired, have joined our ranks and a reunion has been held every year for the last 41 years.

Our reunion is a three-day event held in early October with most participants staying at least two nights.  The attendance continues to grow each year.  Our attendance in 2019 included members from 21 states.

Because of the covid19 pandemic we were forced to cancel our annual reunion for the safety and health of both the Sheraton and our GumDippper nation…the decision to cancel was difficult but it was the right one

This year in 2021 we celebrate our 40th Annual Reunion and expect more members to join us than in 2019 which will be held Thursday, Oct. 7 – Sunday, Oct.  at the Sheraton Sand Key Resort on Clearwater Beach.  Many attendees arrive several days in advance or stay after to take advantage of the special "GumDippers" hotel rate.

This year guest speaker at our Friday welcome meeting is scheduled to be Steve Kinkade, Vice President of Communications for Bridgestone Americas.  He will be joined by Keith Cawley, Senior Manager of Internal Communications, Bridgestone. Americas.

<![if !vml]>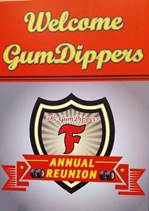 <![endif]>The hub of activity of the reunion is our Hospitality Suite.  It is open most hours during the reunion including Thursday for the early arrivals.  One can enjoy a snack/beverage while participating in the ongoing "old stories" that come alive as memories are awakened.  This is the official "hang out" when other planned activities are not on your schedule.  It's a chance to be brought up to date with old friends. 
We plan an Opening Ceremony on Friday afternoon, a barbecue on Friday night, a Luncheon trip or tour Saturday afternoon, and a banquet on Saturday evening.  The rest of the time is spent golfing, sunbathing, shopping, touring, etc.
Our next Newsletter is now in final production stages and will be mailed to all GumDippers soon.  A complete roster of all members and contact information is attached to our Spring Newsletter.
Don't miss our celebration in Clearwater this year…Florida is open, business is booming, and the weather in October is spectacular.  Select the Reunion Sign-Up tab to the left, print the form, and mail to Russ Burr at the address on the form.
See you all in October.